LG TV Remote App Features
Keyboard to facilitate searches
Easy Browsing & Fast Search
Download this app today for free for your iOS or Android device and control your LG TV with your iPhone, iPad or Android device in record time.
Introducing the revolutionary LG TV Remote App, the ultimate companion for seamless entertainment control. Say goodbye to traditional remotes and experience a whole new level of convenience and versatility.
With this amazing application, you can effortlessly navigate, discover, and enjoy your favorite content, all at your fingertips. Revolutionize your TV viewing experience today with the power and convenience of the LG TV Remote App.
Use the keyboard of your iPhone or Android to look up shows or on your LG TV. This is an amazing feature that your normal remote control does not have. Discover websites, videos and apps in record time by using keyboard in the LG TV Remote app.
Touchpad
Large Trackpad For Quick Navigation
The LG TV Remote app is a great way to control your TV without having to use a traditional remote control. One of the best features of the app is the touchpad, which allows you to quickly navigate around the screen.
With a quick swipe of your finger, you can move from one menu to another or scroll through lists of items. You can also use the touchpad to select items on the screen, making it easy to choose what you want to watch or listen to.

Advantaged Control
Launch Apps & Channels Directly From Your Phone
The LG TV Remote app gives you quicker access to the apps and channels you love most. With just a few taps on your smartphone, they can be launched directly into their favorite shows, movies, and games.
This saves time and is more convenient than fumbling around with a traditional LG TV remote control. In addition, our iOS and Android app put you in complete control of the TV experience. Easily search for specific content, customise settings, and access the latest features and updates.
With the LG TV Remote app, you will feel more confident and in control of their TV than ever before. Thanks to its cutting-edge features and ease of use, the LG TV Remote app is the ideal way to experience the latest and greatest that LG has to offer.
LG TV Remote App Benefits
- Easy browsing on TV
- Fast search
- No more lost remotes
- Save time
- Best signal (wifi is stronger than infrared)
- Latest technology
- No more fighting over the remote control
- Your phone/tablet controls everything
- No more changing your TV remote's battery
The LG TV Remote app lets you easily control your LG TV with your smartphone or tablet. The keyboard and touchpad make it easy to navigate and the auto detect function ensures that you'll always be able to control your TV.
With this iOS or Android app, you can power on/off, switch channels up/down, adjust volume up/down, and mute/unmute. Plus, you can launch channels and apps directly from the app. The LG TV Remote app is compatible with all current WebOS LG TVs and older LG Netcast TVs.

LG TV Remote App Reviews
Read what other people say about our LG TV Remote App.
⭐⭐⭐⭐⭐
The LG TV Remote app for iOS is an incredible tool that allows me to easily control my LG TV from my iPhone. It's user-friendly and makes navigating menus and selecting options a breeze. I highly recommend this app for any LG TV owner, it's a game changer!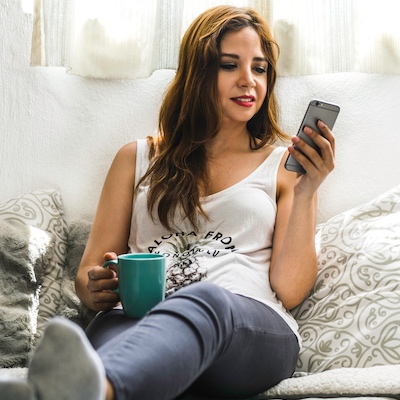 ⭐⭐⭐⭐⭐
All those remotes in the house drove me crazy. I like that I can now control all my electronic devices with my iPhone. Including our LG TV. Great invention that is automatically updated now and then with the latest technology!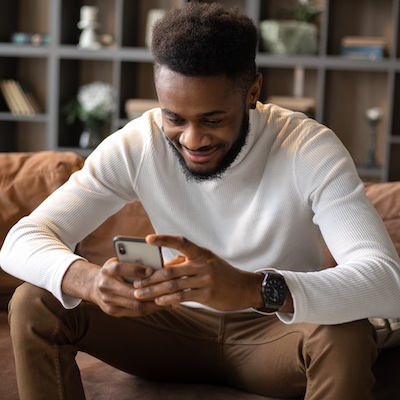 ⭐⭐⭐⭐
Awesome app! The interface is very nice and the app also loads super fast. It would be great if it also included voice control as a feature.
Pricing Plans
Download our LG TV Remote app for free. Or, get the best experience and most features by taking a subscription.
Frequently Asked Questions
Is the LG TV Remote App really free?
Yes! You don't have to pay anything for this application. The LG TV app is currently still available free of charge. This may change in the future. That's why it's smart to download the app for free now. This free version does have ads. This is how we try to cover our high development costs.
What is the best way to contact support?
If you're having trouble with the LG TV remote app, the best way to contact the support team is to open the app and tab the menu. Then, click on support and send your error log. The support team will be able to investigate the issue and get back to you as soon as possible. Thank you for using the LG TV remote app!
How to remove the ads in the LG TV Remote App?
The LG TV Remote App is a great way to control your LG TV from your mobile phone or tablet. It includes advertisements. The ads in this app are personalized to you and feature popular products and services that you will enjoy. If you're not a fan of the ads, there is a way to get rid of them by taking out one of the subscriptions.
With a subscription, you'll have access to ad-free content and also get some additional features. So if you're looking for a way to get rid of those pesky ads, a subscription is the way to go.
There are three different subscriptions: Monthly, Yearly or One-time. We offer a subscription starting at $ 4.49.
How do you tell what year your TV is?
Knowing what year your LG TV is can be beneficial when it comes to understanding the capabilities of the device or finding compatible accessories. To determine its age, you should start by looking at the serial number printed on a sticker somewhere on the rear or underside of the television.
The serial number will usually begin with two letters followed by several numerical digits. Breaking this down, typically, the first letter is an indication of the manufacturer, in this case 'L' for LG, and the second letter indicates the country of origin.
The next numbers will indicate a date code with its format varying depending on when it was produced; however, these few digits can still tell you what year it was manufactured in so that you can find compatible parts and accessories.
How to download the LG TV Remote App ?
Simply download the LG TV Remote App in the Apple App Store or Google Play Store. As mentioned, it's totally free. So you don't need your credit card, PayPal or any other payment provider.
Does this app work on any LG TV?
No. Our iOS application only works on LG smart TVs. There is a good chance that you have one of these, since they have been in production since 2014. Do you have an older LG TV? One that is not connected to the internet and has no apps? Then our LG TV Remote app will unfortunately not work. This is because the application only functions with WiFi.
Does this LG TV remote work without WiFi?
No. Wi-Fi network is required to use the LG TV remote app. It can communicate wirelessly with the television with an internet connection, allowing it to control various features of the device.
The LG remote app is designed to make controlling your TV simpler and more convenient. With this remote, you can enjoy fast and hassle-free access to your tv-shows, favourite streaming services and content.
Is app purchase price refundable?
Yes! In order to receive a refund for an Apple app, you will need to report the problem to Apple using the reportaproblem.apple.com website. From there, you will need to click on "Request a refund."You may be asked to provide additional information about why you are requesting a refund before your request is processed. If your refund is approved, the amount of the purchase will be credited back to your original payment method within five business days. Please note that you may only request a refund within 90 days of the date of purchase.
To get a refund on a Google Play Store app go to Request Your Google Play Refund. Fill out the questionnaire and pick the paid subscription you want to get a refund on. You can request a refund within 48 hours from the time of the purchase, but there are exceptions for example, in case of accidental purchase.
Can I control my LG TV with my Android phone?
Yes, you can control your LG TV with your Android smartphone or tablet. Get LG TV Remote App for free at Google Play Store now!
How do I type letters on my LG TV remote?
Simply open the app and launch the keyboard feature. You can use it just as you are writing a message or email. In other words, you don't have to select letter for letter on the screen. Instead, just find stuff by typing as you'd normally do on your iPhone or Android.
Download our free remote control app.
Read the onboarding.
Make sure your LG TV and your iPhone are connected to the same network.
Let the app search for your TV. It finds it automatically.
Press the found LG TV in the app and connect.
Enter the pin code on your phone which is visible on your LG television.
How do I use the keyboard?
The keyboard makes it easy to enter searches quickly, so you can find movies, series or TV shows in no time. You don't have this function on your psychical remote control.
The keyboard is a paid feature. Get one of the subscriptions to access this premium feature. Or, buy the app once via a so-called life-time subscription. This also means that you are not bound by a recurring subscription.
How to remove child lock on LG TV with remote?
Click the Home button.
Go to Setup by pressing the arrow down key
Go to Lock - Lock System.
Toggle the On button.
Insert the PIN password (0000 is the default password).
The child lock is now removed.
How to change apps on LG TV with remote app?
You can change apps using LG TV remote app in two ways.
Method 1: App Launcher feature
Go to the LG TV remote app on your iPhone, iPad or Android device.
Head over to the App Launcher feature in the bottom-right corner.
Choose an app to launch.
Method 2: LG TV navigation
Press the Home button in the LG TV remote app.
From the Home screen, navigate to the app menu at the bottom of the screen.
Choose the app you wish to launch.
How to get Netflix on LG TV?
Go to the Home screen.
Navigate down to the app menu and then right to LG Content Store or Apps.
Click the Search icon and type in 'Netflix' (this is faster with LG TV remote app Keyboard function).
Download and install the app.
How to put parental lock on LG TV?
Go to the Home screen by pressing Home button on your remote, or using the LG TV Remote App.
Go to Settings - All Settings - General - System - Safety - Toggle On.
Enter the PIN password to change the setting (0000 is the default).
How to change my monthly subscription into a yearly subscription?
You can do that easily in the LG TV Remote App. Here's what you need to do:
Launch LG TV Remote Control Plus +.
Click the three dots in the top-left corner.
Choose 'Premium'.
Choose the Yearly option.
Confirm and finalize the process in Apple App Store or Google Play Store.
How to cancel my subscription for the LG TV Remote App?
In Apple App Store:
Go to Settings.
Click your name (Apple ID) and then 'Subscriptions'.
Find and tap LG TV Remote Control Plus +.
Choose 'Cancel subscription'.
In Google Play Store:
Launch Google Play Store.
Go to your Google Account by clicking your name icon in the top-right corner.
Go to 'Payments and subscriptions' and then 'Subscriptions'.
Choose 'LG TV Remote Control Plus +'.
Tap 'Cancel subscription'.
Is it possible to buy the LG TV Remote app without taking a subscription?
You don't have to buy LG TV Remote App if you don't wish to take a subscription. You can use the app completely for free.
If you want to take advantage of the Keyboard, App Launcher, Mouse Pointer and an ad-free experience, you can buy a Premium subscription. Otherwise, you can use the free version of the app.
Does LG TV Remote App work with tablets?
Yes! You can control your LG TV with an iPad or an Android tablet. Simply download LG TV Remote Control Plus + from Apple App Store or Google Play Store, connect to your TV and you're good to go.
The LG TV Remote App is one of the most essential apps on my phone. I no longer have to change the battery of my LG TV remote control thanks to this app. It is very user-friendly and even has a tutorial to help you get started. Overall, the LG TV Remote App is a great addition to any Apple device.

I don't have to worry about losing my remote anymore. I can just use my phone! The LG TV Remote app is a lifesaver. It's so easy to use and it works great. I highly recommend it to anyone who has an LG TV.

Since I got my LG TV, the remote control that came with it just hasn't cut it. It's finicky and hard to use, so I decided to look for a better option. Thankfully, I found the LG TV Remote App and it has been a much better experience. The app is much more user-friendly and responsive than the physical remote, making it much easier to control my TV. Overall, I'm really happy with the LG TV Remote App and would recommend it to anyone with an LG TV.
Discover LG TV Remote Control App for free today!
Improve your home-entertainment experience and try the app. Don't worry, you won't be charged.